Meituan Dianping was in 2019 ranked the most innovative company in the world by Fast Company. Meituan Dianping is a leading e-commerce platform for services connecting merchants and consumers. Everyday services like hair cut, movie tickets, massage, flight tickets, dining and much more can all be explored and purchased on Meituan Dianping. How did Meituan Dianping become one of the most innovative companies in the world? Let's start with their merge in 2015.
Maituan + Dianping Merge
Originally Meituan and Dianping were two separate companies competing in the same industry. Meituan focused primarily on food delivery, while Dianping focused on movies and restaurant reviews. They merged in 2015, as they saw opportunities to complement each other offerings, and to fuel future growth. The interesting fact is that before they merged in 2015, the two rivals Alibaba and Tencent had their stakes in each of the company. Alibaba in Meituan and Tencent in Dianping. After their merge, Alibaba sold off most of their stocks in Meituan to focus on their own local service guide platform Koubei. Alibaba has now merged Koubei with Ele.me, their food delivery business to be able to compete with Meituan Dianping.
Strong backing by Tencent CREATES ECOSYSTEM EFFECT
Meituan Dianping has strong backing from Tencent, one of the largest technology and investment companies in the world. With this partnership, Meituan Dianping can leverage the power of another super app, the social media app WeChat. This allows Meituan Dianping to be completely integrated with WeChat, also making it easy for users to pay directly with the integrated payment WeChat Pay. This creates an 'ecosystem effect', where ecosystems are merged into one seamless shopping experience. Another important element in this partnership is the sharing and social aspect. Chinese people love sharing their experiences, and Wechat's close integration with Meituan Dianping allows users to interact with friends and family, while browsing on the platform.
Below, you will find a video explaining how the platform use technology to connect consumers and merchants through a wide range of services:
LEVERAGING AI TO IMPROVE EFFICIENCY AND BETTER PREDICT DELIVERIES
Meituan Dianping is leveraging their AI capabilities to predict and improve their food delivery. Meituan Dianping has developed a real time AI system called "Super Brain" to track efficiency and make better predictions for deliveries. This intelligent AI system uses in-depth sensing to track workers efficiency down to seconds. The "Super Brain" platform also monitors traffic conditions and unexpected obstacles. By using delivery drivers as an important data source they are able to improve the delivery time.
Meituan Dianping is often called "Amazon of services", as your daily activities and needs are covered by this one app. Today there are over 30 different services on this app, majority related to food&beverage and tourism. The transaction is also processed by Meituan Dianping, using its own payment system and third party payment such as Wechat Pay, to provide consumers with a seamless experience.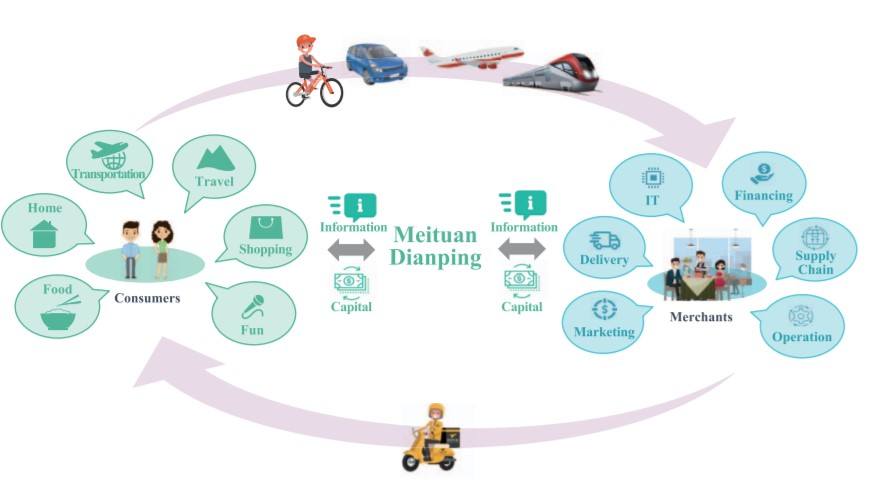 The business model of Meituan Dianping relies on the direct network effect, where onboarding of more merchants cover services of interest for the end consumer. Meituan Dianping has a solid customer base, which incentivises new merchants to onboard the platform. This can be compared to Amazon, as companies are enticed by the attractive customer base to increase sales and reach out to new customers.
The merge between Meituan and Dianping in 2015 shows the importance of developing its capabilities by merging complementary offerings. The same applies to strategic partnerships, such as the partnership between Meituan Dianping and Tencent. Companies in China are really good at finding the right partnerships to enhance the customer experience.
---
Sources:
https://www.fastcompany.com/most-innovative-companies/2019
https://www.linkedin.com/pulse/global-innovation-powerhouse-leading-wave-emerging-tech-grevstad/
---
Processing…
Success! You're on the list.
Whoops! There was an error and we couldn't process your subscription. Please reload the page and try again.