Wechat (微信 Wēixìn) is a lifestyle app, covering multiple areas of your daily life. On Wikipedia, Wechat is described as a multi-purpose messaging, social media and mobile payment app developed by Tencent. Wechat is often referred to as a "super-app" and it is a digital "must-have" if you live in China. You do everything with Wechat – you chat, browse social posts, order your cab, rent a bike, access retail stores through their so called "mini programs" and pay with their integrated wechat-pay. There are endless things you can access just through this one app. Furthermore, Wechat connects users with companies through their own digital ecosystem.
In the last quarter of 2019, Wechat had reached over 1 billion active monthly users and its constantly growing. Many people like to compare Wechat with something similar in the West. However, you can't really compare Wechat to anything in the West, and Whatsapp only covers one function of hundreds of other functionalities. Wechat is a social media app, but integrates many programs within the same app. By having its own payment, WeChat Pay, you are also able to check-out with the same app. WeChat is leveraging QR codes to connect the online and offline world. You simply scan a QR code to receive information and complete the journey within the WeChat ecosystem. I remember when I used to live in Shanghai, I drove my scooter to work, and I always stopped on the way to grab my breakfast. I scanned the QR code placed on the store, money withdraws from my Wechat account, and off I go. It is a very easy, quick and a pleasant experience for me as a consumer, as I only need to use this one app.
What are WeChat Mini Programs?
Mini programs are sub-applications built within Wechat, which means users can access different areas and never have to leave the Wechat-app. There are over two million mini programs operating on Wechat. These are actual retail stores that offers the customers the same experience as of a regular store online, but you remain in the same ecosystem, which allows you to interact and chat with your friends and family during your shopping experience. This is a perfect example of how social commerce is rising to become the "new way" of shopping. The merge between social and commerce is already booming, especially among the generation Z (people born after 1995).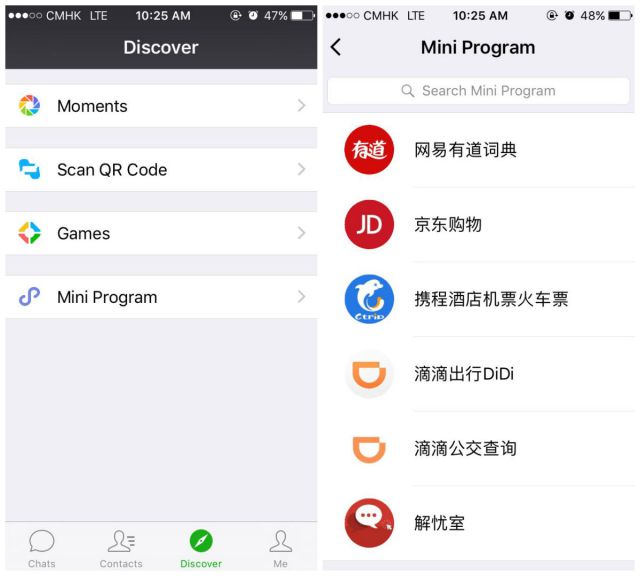 On the screenshot to the left, you see the WeChat interface, and on the right you see the first page when entering "mini programs" within Wechat.
When I lived in Shanghai, I did not realize how much influence Wechat had in my daily life. I used it for any purpose, and it was my digital tool to embrace what China had to offer. Mini programs are a great tool for retailers to reach potential customers as you are simplifying the customer journey and makes an interactive shopping experience in WeChat. As a retailer, you can also use Wechat for your customer service to give instant feedback.
Mini programs are a kind of app that doesn't need to be downloaded or installed to be used. They realise the dream that apps can be accessible everywhere. Users just scan or search to open the app. They 'use it then go,' you needn't worry did you install too many apps. Apps can be absolutely everywhere, you can use them anytime, but you don't need to install anything.

WeChat's founder Allan Zhang
Two examples of usage for WeChat Mini Programs:
Book flights in just a few minutes: You can use the app within the app to order your flight. This is all happening within Wechat.
2. Hiring bikes. Users scan a QR code on the bike, unlock it, and pay for it using WeChat Pay without downloading an app or registering.
There are also mini programs for fashion brands such as Gucci and Prada, which operates their own retail store in Wechat.
WeChat is truly a customer-centric app that has turned into an app store itself, a digital ecosystem with endless interaction. Wechat can be compared to a "Social Operating System" for everyday life. There are no similar app in the West, but we are witnessing that WhatsApp is heading in that direction. Facebook recently announced Whatsapp's new payment feature enabled by Facebook Pay. Whatsapp with over 2 billion users is now exploring a more comprehensive commercial approach, giving people not just a place to chat, or even send payment details, but now to actually complete a transaction.
Wechat mini programs are connecting retailers and users through its digital ecosystem, and simplifies the customer journey. This will continue develop, and I believe we will see more of this also in the West – digital ecosystems and sub-apps built within apps.
---
Want to receive new content? Sign up below:
Processing…
Success! You're on the list.
Whoops! There was an error and we couldn't process your subscription. Please reload the page and try again.
Sources:
https://www.statista.com/statistics/255778/number-of-active-wechat-messenger-accounts/
medium.com/@rorybw/how-to-use-wechat-mini-programs-d24c05ab10be
https://wechatwiki.com/wechat-resources/wechat-mini-program-epic-tutorial-guide/