An online marketplace is a digital "shopping mall", where you can access many product categories through one platform. The marketplace model dominates the e-commerce landscape in China and some well-known marketplaces in China are coming from the two tech-giants Alibaba and JD.com:
Alibaba (Largest e-commerce company in China): acts as a middleman, connecting buyers and sellers and facilitating transactions between them. Alibaba offers different marketplaces tailored to different user groups.
JD.com (second-largest B2C e-commerce company): operates around three business models, described below.
In China the online marketplaces are built around ecosystems, where everything is interconnected. Alibaba is the biggest e-commerce company in China, and has developed a whole ecosystem, covering all aspects of commerce. Moreover, their "New Retail" concept is centered around the convenience of a frictionless shopping experience driven by their established ecosystem – cloud computing, e-commerce, logistics, payment, digital media & entertainment.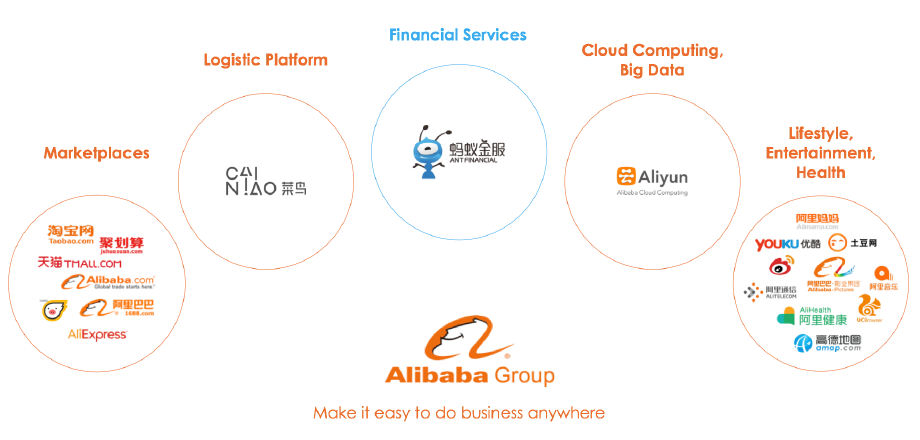 One example is Alibabas grocery store, Freshippo (previous Hema). This grocery store was Alibabas first true New Retail experience, connecting online with offline. Everything is powered by data and technology. There are some central elements to Freshippos grocery store:
QR codes as a link between online and offline interaction
Mobile app as product catalogue and cashless payment
Logistics and delivery
In-store physical restaurant with automated robot serving
When you enter the Freshippo store you soon realize that everything is app-driven. This is due to the fact that over 95% of all e-commerce activity in China is done through mobile phone. The whole shopping experience is done through their app, where you scan QR codes on products to obtain product information, get insights into the supply chain (trace the origin of the product), recommended matching items and so on. You also have cashless payment where you pay with Alibaba's integrated payment method Alipay. If the Freshippo store does not have the products you are looking for in stock, you can order those online from Tmall (Alibabas B2C site), and this will be delivered home within 30 minutes. You also notice there is a conveyor belt in the sealing of the store transporting bags around the store, which is automated fulfilment of online orders. When the orders are completed the bags are transported to the distribution center in back of the store where delivery personell grabs the bag and off they go. This is all an interconnected experience that is powered by cloud computing and technology.
Other tech-giants that have developed their own ecosystem is JD.com and Tencent, and some elements of their ecosystem is based of their strategic cooperation as they are working together to compete against their big rival Alibaba. For example, JD.com is leveraging Tencents super-app WeChat to do their own version of "new retail", which they call Boundaryless Retail. JD.com also recently launched "mini-programs" on their platform, offering a diverse range of functions without leaving the main app. The mini programs can be adapted for the WeChat platform thanks to their partnership.
WeChat with over 1 billion active monthly users, is an all-in-one "super app" that covers many features and functions around social interaction
Source picture: Barcelona Technology School
Marketplaces in China have a strong presence, and because of their established ecosystems, they offer a frictionless end-to-end connected user experience. Customer experience, logistics, payment, social media, and e-commerce are all elements of the ecosystem, which allow them to create world-class user experiences.
Sources: